– Why does Bierut have a glass jar? "Let everyone see what they are doing." This is an innocent joke, but it was said at a meeting "among friends" in 1950, when Zofia Wandel was sentenced to five years in prison, three years of deprivation of public and civil rights, and confiscation of property.
But there were more results. The verdict is one thing – it was about the readiness of the accused to change the system of the Polish state by force. His political jokes were to distort relations between Poland and the Soviet Union and propose a third war.
But second, when Dzialdovsky District Office officer Zofia Vandel came to the Security Department left her husband, ten-year-old Hania, and six-month-old Zosia at home. At that moment, the grandmother from Działdowo simply said, "Sophie, take a coat." She took it, but she didn't even manage to feed her little girl. Immediately afterwards, her husband, Wojciech, lost his job as a civil judge as a result of repression. It worked as a PKS driver because it had to work. Zofiya was serving his sentence in Bydgoszcz Fordon.
"We will manage"
"He spent the first night with the rats in a damp, cold, dark cell. Her breasts full of milk ached. A few days later, someone gave him a brass method. He was sent to prison, sat with criminals. He was taken to the Security Department for questioning. The prison building was adjacent to Hania's school. One day he saw his daughter … Haniya, standing by the open window, saw her mother (behind bars). He turned to his friend in a very loud voice: "You know, Romek, Zosia has calmed down … Everything is fine at home. we will manage. " Mother heard. He breathed a sigh of relief, "recalls his youngest daughter, Zofiya Baginska.
Zofia Wandel returned from prison early. This was made possible with the help of one of the prisoners. They worked in a sewing workshop, where police badges and military uniforms were made. His girlfriend Ziuta kept her speech on her account. Then he became part of the Wandel family – he moved in with them because he was not with anyone. Zofia Wandel died in 2006 at the age of 88. As her daughter recalled, the motto of life was: "When Paradise measures human deeds in the final judgment, it will probably value gestures of mercy more than suffering in prison."
Date written by memories
The story of Zofiya Wandel and her family is just one of the memories sent to the virtual exhibition #My Memory. The action, launched during the pandemic, was aimed at encouraging people over the age of 60. share memories and photos from your home archive. In this way, the Museum of Polish History has collected the memories of specific people and families in the background of Polish history from the XIX century to the present day. The exhibition can be viewed at mojapamiatka.muzhp.pl. There are many memories – for example, about Sigmunt Ronke's 2013 restored Christmas watch from KL Neuengamme. Saat returned to his sister 69 years after leaving the camp.
Sigmunt Ronke, from his hometown of Schrem, was deported to Germany in 1941 for forced labor. He was then sent to a concentration camp in Buchenwald as a political prisoner. He was then taken to KL Neuengamme and returned home. He died in 1948.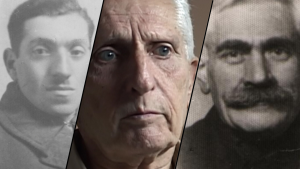 Optionally a Silesian
Alexandra Grabiec remembers her grandmother Maria (1893-1979), a Silesian girl of her choice. She discovered one of the photos she took as a 19-year-old girl only after her death, when Maria's apartment in Katowice was demolished. Alexandra Katowice loved to visit her grandmother in Koszutka. Just like the whole family who came to my little apartment on my grandmother's birthday on March 24 every year.
Although my grandmother came from Little Poland, she met the Silesian she married. They settled in Silesia, where Maria Grabkova fell in love. Like the Silesians, they are valued for their patriotism, diligence, and perseverance. As a teacher and public activist, these were the values ​​he passed on to future generations. She worked for the Union of Polish Women's Societies with women who took part in the Silesian uprisings. He involved his whole family in the construction of the Piłsudski mound.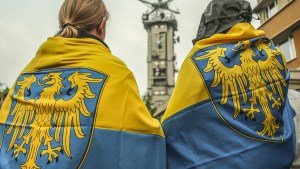 Memory of the Vujek mine in the Tatra Mountains
Zbigniew Kluska describes how he and his friends remembered during their 1982 vacation in the Tatra Mountains. events from the Wujek mine on the mountain path. The following inscriptions were engraved on a stone pasted near Morskie Oko: "In memory of those killed in KWK" Wujek "- December 16, 1981 – members of the NSZZ" Solidarność ".
"After placing the plaque on the stone at the edge of the main road around Morskie Oko, it became clear that after a while a few candles were burning and people standing in disbelief looked around happily. The fact that "solidarity" is alive does not mean that everything is lost – Zbigniew Kluska writes. After a while, SB broke the stone so that no trace of it remained.
More memories in the virtual exhibition HERE.